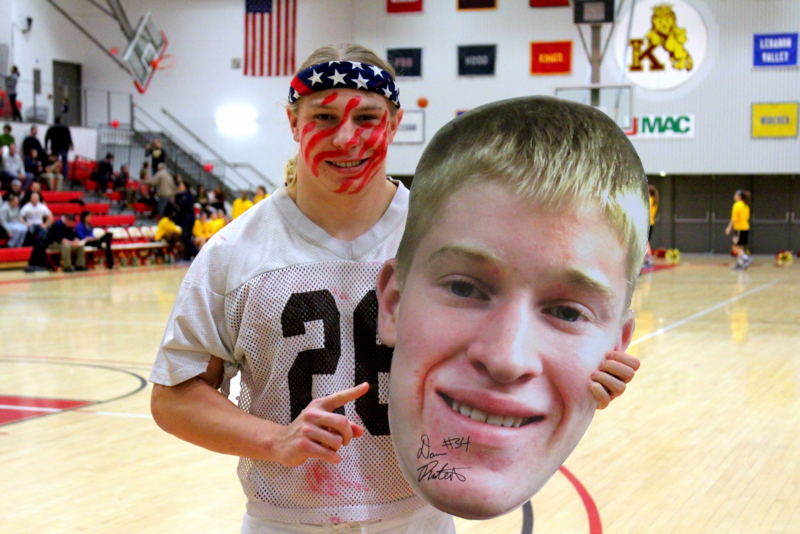 Before the historic pavilion started rocking, prior to the forty minute slugfest that pitted North River Street against South, sophomore Chris Boyle walked into Scandlon Gymnasium, ebulliently beaming at what was about to come.
His thick, red, white and blue American flag-themed bandana held back his blond mane. His old, tattered white jersey now slightly dyed red, for the Monarchs, was draped over his chest.
And in his right hand, he held the face of the King's College men's basketball team: a massive, nearly foot-long fathead of Dan Rutecki. It was his version of pride and he became a metaphor for all the Monarch Maniacs that cluttered the baselines and sidelines surrounding the hardwood.
There was no doubt in Boyle's mind. It was more than simple. The thought was brief. King's was going to win.
"Of course they are," Boyle responded when asked if he thought the Monarchs would beat Wilkes. "It's going to be packed in here you just wait and see."
One by one they entered. Some came spattered in red paint across their chests while their faces were filled with excitement. A section sitting behind head coach J.P. Andrejko had cutouts of seniors Tim O'Shea and Rich Douglas, both entering what could have been their last day playing at Scandlon.
But Wilkes brought just as many and filled the opposite of the arena. Like many years, like every year, nothing matched the excitement of King's vs. Wilkes.
I think King's College is ready for Wilkes pic.twitter.com/zcvCc8aAX3

— Tyler R. Tynes (@TylerRickyTynes) February 21, 2015
*****
The crowds had settled. The introductions had been cast and war was beginning to be waged. King's jumped to an 8-0 lead on a pair of John Fazzini triples. Wilkes counter punched for the entire first set.
The chants came frequently and without remorse. Some were filled with profanity. Others addressing each player individually. Students yelled at Wilkes' Alec Wizard as he inbounded a pass late in the second half, the were rambunctious and weren't soon to be stopped.
And by the end, Boyle's prediction was fruition. King's had won Saturday afternoon, 83-76, and etched their names on a Freedom Conference Playoff ballot for the first time since 2010. It's been five long years, but King's is finally back where they want to be.
Nearing the top of the conference, with the student body finally back by it's side.
"The hardest part of this league is getting in the playoffs. It's a war every night. You only get 14 chances to get in."
"Like every other college kid," Andrejko chuckled when asked how'd he let his players celebrate. "Go enjoy themselves. Monday at 3:30 we will be back in and start practicing all over again."
King's balanced offense went on display from the opening minutes of the clash. Fazzini, Rutecki and freshman Dan Borner combined for  66 of King's 83 total points. Border had the game-high 23 points in one of his most stellar performances in his young career.
King's shot 54 percent from the field and only bricked three of their 26 free throw attempts and led the game for 93 percent of the contest. They dominated Wilkes in every way.
But for the young team, a squad majorly comprised of underclassmen, Andrejko stressed the importance of getting the win, not only for the program, but the entire Monarch community.
"It's great for everybody, but most importantly it's great for these kids." Andrejko said. "They put in so much time and effort and they deserve to be here. Last year was one of the most disappointing years..for this group to get find a way to get in, it's great. They are playing well. We are looking forward to what they can do next week."
****
The crimson stands of Scandlon stopped shaking minutes after the domination was complete. King's had now swept Wilkes for the day, both men's and women's team's putting away their bitter rival.
It only furthered the Monarch's excellence, now a playoff-clinching win and a Mayor's Cup victory over the Red & Gold's nemesis in the past six months. It's a major victory not only for the program but also the totality of King's athletics.
Everyone won. Those wearing jerseys and those without. Boyle was a representation of the lost pride that King's had suffered for years. But for one moment, within the annals of Northeastern Pennsylvania basketball, King's reigned supreme. The Monarch Nation controlled the pace with their audacious racket.
And most importantly: King's is headed back to the promise land. Saturday they trounced the Colonels. Next Wednesday, they hope the Misericordia Cougars can fall as beautifully.
"It is such a fun environment when we can do this," Andrejko said about the large student section in Scandlon. "In all sports you just see, for whatever reason and all coaches talk about it, that you don't get [a big support]. When you have that kind of environment, our guys, both teams, love playing in front of that kind of crowd.
"But as far as the crowd itself. What a blast they all had. What a great night it was for everybody. What a great night it was the [Middle Athletic Conference]. For this rivalry. And that's what it's supposed to be. It's the beauty of Division III athletics. This is the experience we want for our kids."
Tyler R. Tynes covers King's athletics for WRKC Digital. Email him with any concerns at TylerTynes@Kings.edu and follow him on Twitter @TylerRickyTynes