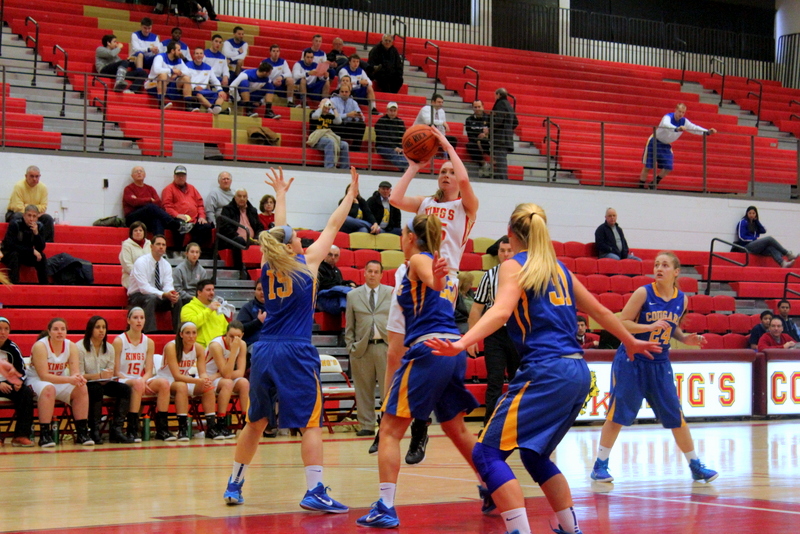 The Misericordia broadcast announcer on the far side of the press box was stammering. Just like that, it had vanished.
All of the promise, the amazement, the fluidity and any other superlatives that could describe how splendid it was to watch Lady Monarch basketball roll at a high level: was gone.
Misericordia (1-22, 1-10 Freedom) still fell for the 22nd time in 23 contests, but this time, they did so with flair. They overcame an 18-point lead, a 60-42 mark that looked like the ending of another conference contest with four minutes left in the game.
Then it all sunk.
In a flash, Misericordia was within five points of King's (10-13, 6-6 Freedom). Their mighty lead had deflated. Their superiority appeared fruitless. The incessant, frequent mistakes that've plagued King's all season had returned.
King's did finish the job, winning their sixth conference game of the season, though it came against the conference's worse club, who they struggled with mightily.
At 6-6 in conference play, the Lady Monarchs are still fifth in Freedom Conference standings, just shy of making the playoffs for the second season in a row.
With two games left before the season concludes, it's anyone's guess where the Red & Gold will end up, but the most important game comes Tuesday against Delaware-Valley away from Scandlon.
Win that, we talkin' postseason. Lose it, and we talkin' offseason.
Growlers
Misericordia junior, Nikki Baro, left the game in the second half with what appeared to be a left shoulder injury.
Manning led the team in the first half with a team-high, 16 first half points. The senior finished with 19 points and seven rebounds at game's end
Both teams were poor at handling the ball. Misericordia and King's combined for 46 turnovers compared to 34 assists on the day, many coming from traveling violations
Sophomore Kasey Seitz played a big role in the Monarchs win. She had 19 points and was 8-for-10 from the free throw line, many coming in the last two minutes of the contest.