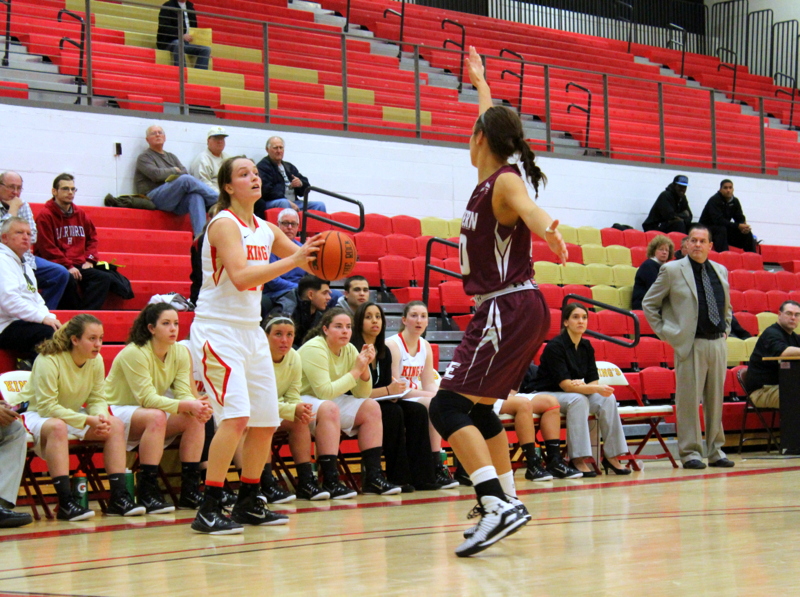 His face sunk when Eastern's Kaleigh Boreman sank a triple from the deep right corner in Scandlon Gymnasium.
Brian Donoghue, the 10th year coach, hung his head back in disbelief. The Lady Monarchs were sinking. And it didn't get better as time sped faster.
Sophomore Kayla Feairheller chucked an airball from the top of the key. Freshman Olivia Hoffman's drop step in the lane barely yielded a positive result when the orange clanked off the right rim in the early minutes of the contest.
The result, a 70-50 Wednesday night decision, seemed like a regularity at this point of the season, the wins coming few and far in between. The season is an improvement from last, but the ending, rather another short ending to a prolonged season of agony, was the same.
"We are a perimeter oriented team," Donoghue said. "We thought we could attack them off the dribble to the rim. I thought we could attack them, certainly attack Lavin and Nowak off the dribble…ultimately we gotta get that going earlier in the game."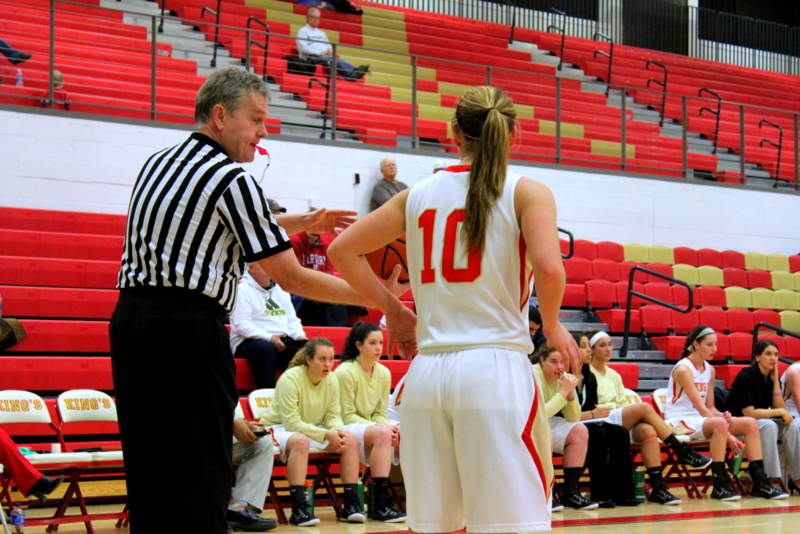 The Eagles (18-4, 10-1 Freedom) jumped out to an 11-3 run to start the second half, running the Lady Monarchs (9-13, 5-6 Freedom) ragged with a tough press and a bevy of chances at the line which led to 41 second half points for Eastern.
They rode to this victory from their new top-25 ranking which came from a 88-87 overtime victory over last season's Nation Champions: the previously unbeaten FDU-Florham Lady Devils.
This night, it was reigning Freedom Conference Player of the Week Megan Nowak that did the most damage. She carried the club with 22 big points, on 10-for-13 shooting, and 12 rebounds furthering her First Team All Freedom Conference campaign. Emily Lavin chipped in 15 points of her own and nabbed 13 boards.
The plan was to slow down Nowak, like most teams, but the Lady Monarchs just couldn't find answer for the Eagles' front court.
"People don't realize she's a really good passer and midrange jump shooter," Donoghue said. "So we said let's put her in the top of the high-low and make her score the ball, which she can. She's a good player. But let's make her score the ball over us and not let her low feed it to Lavin. We were hoping to have them play their offense through her. But she attacked it and did a nice job."
King's was paced by Kayla Feairheller's 14 points, yet she combined for an abysmal night with sophomore Kasey Seitz for 7-for-33 from the field, largely contributing to the 26.2 percentage that the Lady Monarchs amassed.
With three contests left, one against a top-four club (Delaware-Valley), it's possible that fifth place King's can still sneak into the playoffs. But the possibilities end with poor shooting. And they keep shrinking with poorer defense.
But with some changes, and some luck, they'll be there three games from now. Though, if they continue to disappoint at home, as they have in back-to-back games in Scandlon, their last two home stands will be more rugged than anticipated.
"I thought our shot selection was pretty good," Donoghue admitted post game. "We just need the ball to go in for us to be successful."
Tyler R. Tynes covers King's sports for WRKC Digital, follow him on Twitter @TylerRickyTynes or email him at TylerTynes@Kings.edu