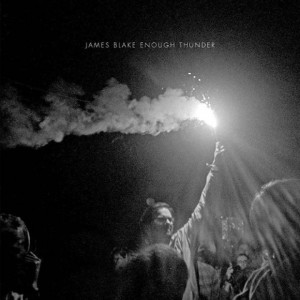 James Blake may not be a WRKC on-air favorite because his blend of classical piano, spooky electronic sounds, and crooning vocals doesn't always suit the needs of a radio ear, but his compisitions have garnered great acclaim on his self-titled debut. Following up with Enough Thunder, a 6-song EP, he continues the same sound, but building new songs.
The highlight of the EP is Blake's collaboration with indie darling Bon Iver, "Fall Creek Boys Choir," which marries natural and auto-tuned versions of their voices with a slow percussion track, possibly a dog woof sound loop, and piano. Fans of pop music will find a gem in this experimental album: Blake's cover of the Carly Simon classic "A Case of You." Blake's strongest parts– voice and piano– rise to the top like sweet cream.
For a prime example of Blake in his element, check out "We Might Feel Unsound," which starts with atmospheric piano and subtle loops of backing vocals, but then lights up with electro drum beats and bass drum explosions of mood. His music is an acquired taste, but if it finds its way into your heart for being completely original, you'll be hooked on the exciting paths he explores.